Ballet franchises that fit your life
The number one benefit that our franchisees say about having a tiny toes ballet franchise is that they're in control of their schedule.
Most of our ballet franchise owners are mums who were looking to do what they love but still have plenty of time for their families.
What does owning a tiny toes ballet franchise mean?
We are the UK's leading preschool dance company and the only one that's fully integrated with the EYFS curriculum. You'll find that you're able to make a huge impact on the lives of both the dancers and their parents.
Many of our dance franchise owners began teaching children when they were just six months old, and have now seen those same children graduate and move on to ballet school.
Combine those benefits with excellent earning potential and a flexible working environment and it's easy to see why our dance franchisees are so enthusiastic about tiny toes ballet.
"Apart from the work/life balance and being your own boss, one of my favourite things about owning a franchise is the range of responsibilities.
More importantly and unmatchable is the feeling you get from knowing that you are positively impacting so many children's lives."
Jess (franchise owner) - children's dance classes in Bridgend and Vale of Glamorgan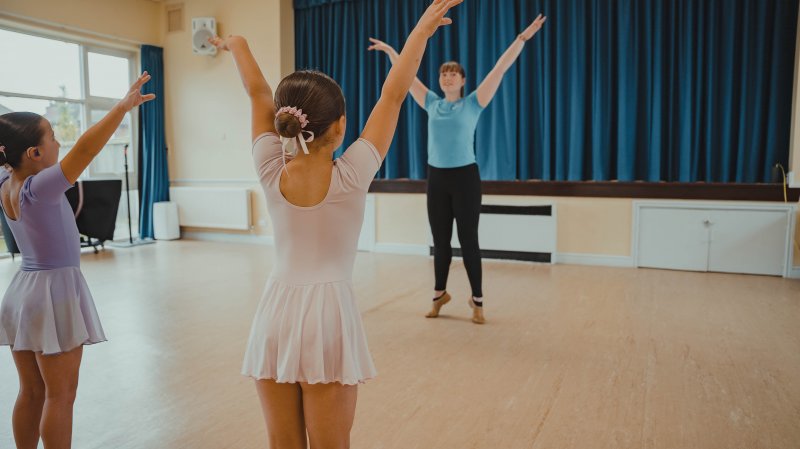 Benefits of our dance franchise include:
Full support from day 1! Including support and guidance on the most effective ways to market your business.
Risk-free way of owning your own business.
You're in control of your schedule. It's a fully flexible way of working.
Take advantage of a well-known brand in the dance industry.
A chance to do what you love (and get paid for it)!
Make a real difference in children's lives.
Make lifelong friends and connections.
Get a set syllabus for each term to make it easier to prepare for the children's dance classes!
Great work-life balance.
Keep fit while you're working.
What does the dance franchise package include?
You'll get access to a bespoke website, CRM, and an online management system to make it easier to run your business. You will also receive:
Expert training and 1-to-1 support.
Full set of teaching resources worth £2,000+
Over 100 themed lesson plans, objectives, materials, and resources.
All marketing materials that you need to get your first dance students.
A full DBS check, 1 year's insurance, and even First Aid Paediatric training are included in the package.
The best thing about owning a tiny toes ballet franchise is that you get to become part of the family. We already have lots of successful dance franchise owners based across the UK who are more than happy to share their tips and tricks with you.
Don't miss out, claim your exclusive territory today to take the next step in your career.
"From day one, before even signing the contract with Emma, I felt included, wanted, listened to and supported as I took on such a big step in my career.
The integration with the EYFS curriculum and links to ballet, and the way Emma merged them together was unique! It was something I couldn't wait to share with my area of Essex, and I've never looked back since."
Natalie (franchise owner) - children's dance classes in Essex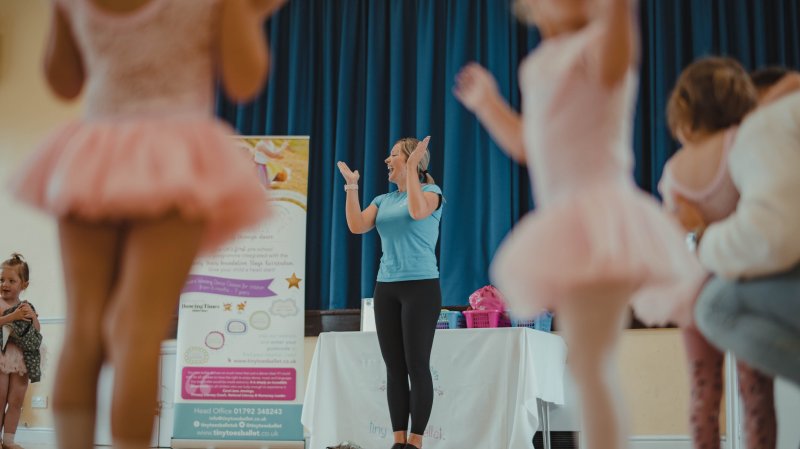 How do I claim a tiny toes ballet franchise?
There are so many benefits to owning one of our dance franchises. If you're ready to take control of your career, then the first step is to get in touch!
We can then set up a call to discuss the process further and make sure that it's a perfect fit. It's a good opportunity for you to ask any questions that you might have.
Once you've completed training and all the legal bits have been taken care of, you're ready to make your dream a reality! Don't just take our word for it, browse our franchisee testimonials from real business owners.